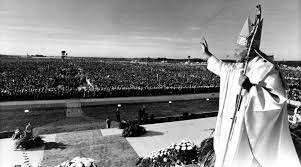 DID YOU KNOW? The Pope is coming during Pilgrimage next week!!!
As one stop on his pastoral visit, Pope Francis is coming to our backyard on Tuesday, July 26
From the official website www.papalvisit.ca
The Pope's visit will provide a unique opportunity for him, once again, to listen and dialogue with Indigenous Peoples, to express his heartfelt closeness and to address the impact of colonization and the participation of the Catholic Church in the operation of residential schools throughout Canada.
After the past two years of virtual gatherings, in-person pilgrimages will return to Lac Ste Anne in 2022. Each year approximately 40,000 Catholics have descended upon the shores of Lac Ste Anne to take part in this over 100-year-old tradition. And although the pilgrimage will be open only to registered participants on the 26th, access and operations are largely expected to return to normal on the 27th.
HOW MIGHT THIS AFFECT ONOWAY? Estimates range up to 250,000 visitors!
Traffic, Traffic, and MORE TRAFFIC
Beginning around 4pm in the afternoon, the Papal motorcade will travel west from Edmonton on Highway 16, north on Highway 43 and then west on Highway 633 to the Shrine area of Lac Ste. Anne. His visit to the Lake will most likely last for approximately one hour, after which he will return to Edmonton along the same route. In-person attendance at the site during His visit is largely by invitation for residential school survivors and Indigenous partners. The size of His official convoy will be unprecedented and there will be traffic control at every intersection to allow it to pass unimpeded. Motor vehicles will not be allowed to stop anywhere along this route.
Traffic on all roads and at intersections north of Hwy 16, west and south of Hwy 43 and east of Hwy 765 will be controlled and limited. Most notably, travel Hwy 633 between Highways 43 and 765 will be strictly limited to official vehicles, shuttle buses and residents with travel passes only.
It is anticipated that thousands (and perhaps tens of thousands) of vehicles will pass through Lac Ste Anne County and surrounding areas causing additional disruptions to normal traffic patterns. Please consider traveling only if absolutely essential and if your travel is necessary, then recognize the potential for significant disruptions and plan accordingly.
Camping… or specifically NO OVERNIGHT CAMPING in our parks, public lands and roads
Given that all local accommodations are fully booked largely for the duration of Pilgrimage and that the Lac Ste. Anne campsite will be unavailable until Wednesday, July 27, it is entirely possible that some or many people will think about camping in and around the town to access to our amenities. Increased signage and patrolling peace officers will be used to discourage campers. Hopefully our soft spoken and proactive approach will reduce potential impacts such as increased noise and trash within the community.
Be Prepared for a Shortage of Resources. FOOD, WATER and GAS are critical.
An influx of people will naturally test Onoway resources. With thousands and tens of thousands of visitors in the immediate region, our critical and business infrastructure will be tested. It would not be unusual for there to be a run on groceries, beverages and fuel. Be sure to plan in advance – just in case!
Crime Concerns
In addition to nuisances such as noise and litter, property crimes such as trespassing, vandalism and petty theft may increase. Be sure to secure you property and belongings to the fullest extent possible and in the unfortunate event of becoming a victim – be sure to report it to the Stony Plain RCMP and LSAC Peace Officers.
For more information please visit Lac Ste. Anne County's webpage Home (lsac.ca)