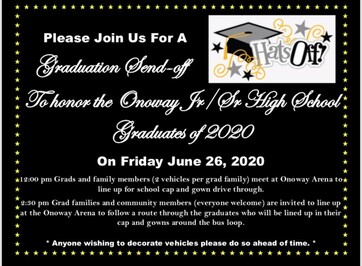 On Friday, June 26, 2020, Onoway Jr./Sr. High School and Onoway Grad Parents Association have organized a "send off" for the Onoway 2020 Graduating Class! Please show your support by attending the unique event! 
12:00 pm Grads and family members (2 vehicles per grad family) meet at Onoway Arena to line up for school cap and gown drive through.
2:30 pm Grad families and community members (everyone welcome) are invited to line up at the Onoway Arena to follow a route through the graduates who will be lined up in their cap and gowns around the bus loop.
Anyone wishing to decorate vehicles please do so ahead of time.