NOTICE OF PUBIC HEARING BYLAW NO. 790-21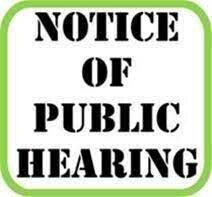 Pursuant to Section 606 of the Municipal Government Act, the Council of the Town of Onoway gives notice that it has given First Reading to Bylaw No. 790-21 a Bylaw to amend Land Use Bylaw No. 712-13 to redistrict a portion of lands legally known as Plan 4114 TR; Block A from Residential – Single Family Narrow Lot District (RIN) to Urban Services District (US).
The Public Hearing for Bylaw No. 790-21 will be held on Tuesday, October 5th, 2021 at 7:00 p.m. at the Onoway Museum & Heritage Centre located at 4708 Lac Ste. Anne Trail North, Onoway, Alberta, as well there will be a virtual opportunity to participate.
Anyone affected by this proposed amendment may make a written or verbal submission.  Your submission should contain your name and address; the location of your land; and your comments.  Opportunity will be given to make both verbal and/or written submission at the time of the hearing.   This public hearing is your opportunity to provide testimony & comment with respect to this proposed bylaw amendment, it is not a debate, it is not a question and answer session.
Written Submissions can be provided to:
Mail:  Town of Onoway, Box 540, Onoway AB  T0E 1V0 / Drop-off: 4812-51 Street, Onoway, Alberta             Fax: 1-780-967-3226 / email:  info@onoway.ca
Questions or Further Information can be obtained from Tony Sonnleitner, Development Officer, at 780-718-5479 or email at pcm1@telusplanet.net.
ZOOM LINK:
Topic: Debbie Giroux's Personal Meeting Room
VIRTUAL ZOOM LINK 
https://us06web.zoom.us/j/6141209916?pwd=RTE0QlZjM1V3OWxWc3BHRTk1bEhRUT09
Meeting ID: 614 120 9916
Passcode: 034502
Dial by your location
        +1 204 272 7920 Canada
        +1 438 809 7799 Canada
        +1 587 328 1099 Canada
        +1 647 374 4685 Canada
        +1 647 558 0588 Canada
        +1 778 907 2071 Canada
Meeting ID: 614 120 9916
Passcode: 034502
A copy of the notice along with proposed Bylaw 790-21
____________________________________________________________________________
SUBDIVISION REFERRAL - LOCATION PLAN 4114 TR, BLOCK A: 4602-47 AVENUE  - TOWN OF ONOWAY
To view the Subdivision Referral please click on the link below: